Panama Elida Estate Reserve
Panama Elida Estate Reserve
Cup Characteristics: First impressions of Elida are a delicate, floral aroma in both ground and brewed forms. In the cup, it is very bright, with piquant acidity and fruity, melon-like sweetness with hints of chocolate and berries. It has medium/heavy body with a long, very smooth finish. This is truly an extraordinary and satisfying cup.
$18.99 per pound

---
New 2014 crop. Previously awarded 91 points in Coffee Review August 2012 joining our 95 rating for this same coffee in 2007. Fans of this Elida Estate will not be disappointed with the vibrant, complex flavors available in this current crop, which arrived, protected in Grainpro bags, in July. Elida Estate Reserve has been a perennial favorite at Willoughby's and we have offered it over the course of several years. This is a "Direct Trade" coffee and we have built a terrific relationship with the grower that has now spanned years. The price of this coffee has gradually increased due to demand, but being such a great coffee we choose to offer it year after year.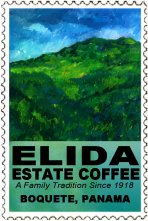 Elida Estate is located in the Volcan Baru National Park near Boquete. The farm is about 65 hectares (160 acres), 30 of which are planted with coffee trees; it produces about 400 60 kg bags annually. Elida coffee is grown at an altitude of between 5500 and 6000 feet above sea level, the highest level at which coffee is grown in Panama. In fact, Elida is one of the two highest coffee farms in Panama. Varietals grown are Catuai and Bourbon, with some Geisha planted within the past few years. The Estate Reserve is 100% Catuai. The farm uses traditional washing methods, and coffee and is completely sun dried. The farm has been owned by the Lamastus family since 1918. Because of the very high elevations where the Especial Reserve is grown, coffee is slow to mature and later to ripen and be harvested. A few years ago, while there for a Best of Panama competition, Wilford Lamastus gave us a tour of his family's farm. It was amazing that in mid April trees at the highest elevations still had coffee cherries yet to be picked!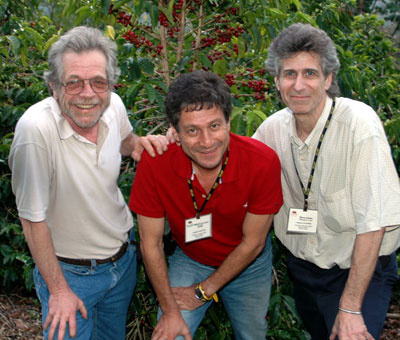 Bob, Wilford Lamastus owner of Elida center, Barry