Panama Don Julian Pacamara
Panama Don Julian Pacamara
Cup Characteristics: Chocolate and floral aromatics. Exotic, big prune, raisin, fig, plum flavors with a hint of portabello. Big, beefy Pacamara with dark fruit dominance. Hickory background notes and cedar. Lots of body; brooding, long finish. Big, sturdy and structured. A real achievement.
$24.99 per pound

---
This Willoughby's Serious Select coffee be roasted and shipped on Tuesdays 4/22 and 4/29, subject to availability.
The final offering of an extremely popular Serious Select offering and one of our favorites. Coffee arrived here in vacuum packaging after winning first place in the Best of Panama traditional category. Before providing more detail I have to confess that this is one of my favorite coffees. This year's Don Julian Pacamara is the best I have ever had and I have been tasting this coffee for quite a number of years. Apparently, my 15 co-jurors at the Best of Panama agreed, giving this coffee the highest overall score in the category. Admittedly, for as long we have known this coffee, we know very little about the farm and its ownership.
Pacamara is a varietal hybrid of Bourbon; it is a cross between the Pacas variety discovered in El Salvador and the very large Maragogype bean. The mixture at its best produces very deep, brothy flavors that always seem reminiscent of dark fruit like plums, raisins, prune. While not overbearing or something that is likely to become tiresome, Don Julian is pretty easy to pick out of a crowd. On the cupping table with seven other coffees in the same flight it was not difficult to know which it was. It was and is delightful.
The farm is located in Boquete Panama at about 1600 meters they have been growing Pacamara in its rich, black volcano soil for some years. We can remember tasting it in 2006 and it well may have been there at an earlier date. The growing area is in a protected tropical rainforest farm that gives a unique flavor, great acidity and bold body to form a richly complex cup.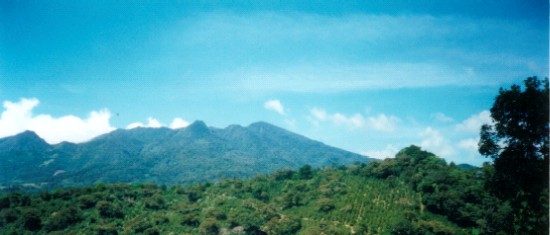 A view of the Horqueta Mountains with the Barú Volcano in the distance.
We tried to buy this coffee last year but were not successful. This year, immediately following the competition we were able to purchase all the available coffee that was not put in the auction itself directly from the exporter who handles their affairs. The coffee after harvest underwent traditional washed processing at Casa Ruiz where it was later finish when dry milled. After purchasing the coffee was vacuum packed to our specifications and shipped in boxes to our roasting plant. This is the first time it is being offered.