Panama Elida Estate Reserve
Panama Elida Estate Reserve
Cupping Characteristics:First impressions of Elida are a delicate, floral aroma in both ground and brewed forms. In the cup, it is very bright, with piquant acidity and fruity, melon-like sweetness with hints of chocolate and berries. It has medium/heavy body with a long, very smooth finish. This is truly an extraordinary and satisfying cup.

---
New 2016 crop arrived here in September, packed in Grainpro bags to preserve the beans and protect them from moisture and outside odors. A direct trade coffee. More popular - and expensive - each year. We have a limited quantity and it is sure to go quickly. Last year we had the pleasure of visiting the farm and are extremely excited to offer it for another year. The Elida Estate Reserve won 2nd place in the traditional washed category at last years Best of Panama competition, at which the owner of Willoughby's was an international judge.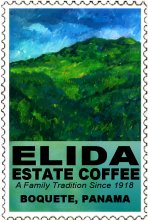 Elida Especial Reserve has been a multi-year favorite of our customers. Elida seems always in the top group of traditional Panamanian coffees, farmed from 100% catuai varietal, grown at very high altitudes and given tremendous care and detail, all under the learned hand of Wilford Lamastus and family. Year in and out Elida Estate Reserve is a quality grown coffee and it seems to grow in popularity. Fans of this coffee will not be disappointed in the vibrant, complex flavors available in this crop.
Elida Estate is located in the Volcan Baru National Park near Boquete. The farm is about 65 hectares (160 acres), 30 of which are planted with coffee trees; it produces about 400 60 kg bags annually. Elida coffee is grown at an altitude of between 5500 and 6000 feet above sea level, the highest level at which coffee is grown in Panama. In fact, Elida is one of the two highest coffee farms in Panama. Varietals grown are catuai and bourbon, with some geisha planted within the past few years. The reserve lot is 100% catuai. Elida is a traditionally fully washed coffee, fermented in tanks and sun dried. The farm has been owned by the Lamastus family since 1918. Because of the very high elevations where the Estate Reserve is grown, coffee is slow to mature and later to ripen and be harvested.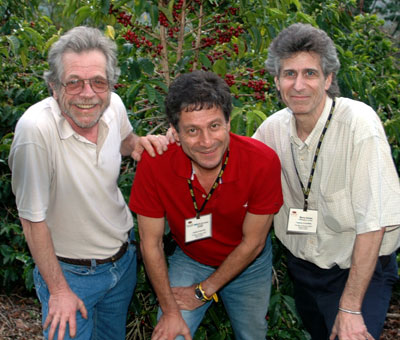 Bob, Wilford Lamastus owner of Elida center, Barry
Wilford Lamastus owner of Elida 2015
Handmade wooden trays used for drying the natural and honey coffees.