Panama Esmeralda Private Collection Geisha Natural
Panama Esmeralda Private Collection Geisha Natural
Cup Characteristics: Very lush, sweet floral notes, especially Jasmine and coffee blossom, with pronounced lemon-lime citrus acidity. Generously fruit filled and light candy flavors. Soft, lush, refined and light chocolate mouthfeel. Moderate fruit intensity resulting from dry processing. A coffee with obvious pedigree and extremely approachable.
$59.99 per pound per 12 ounces

---
This Willoughby's Serious Select coffee will be roasted and shipped 3 times over the course of 2 weeks, on Tuesday 11/17, Friday 11/20 and Tuesday 11/24. If you are ordering for shipment select one of the first two roasts to arrive by Thanksgiving. Please allow sufficient time for your destination as shipping services are often very busy during peak times.

Arrived here in October 2020, new crop, in vacuum boxes, a Direct Trade coffee. We have been fortunate to be one of the only US coffee roasters importing this coffee for this and past years. This is the Natural Process version of this coffee - we purchased it as both Washed (wet) and Natural (dry) processes but offering one at a time. The Natural is more expensive and in the most recent years many of the top Geisha coffees from Panama's highlands have become more popular as such. Much of this coffee goes to Asian markets, notably Japan, South Korea, Taiwan as well to Australia. In these countries Natural processed coffees are highly sought after. This form of processing, where the coffee seeds or beans are dried in the fruit that surrounds them, thus imparting more depth of flavor, rather than the lighter flavors resulting from removing the fruit through washing, than drying just the seeds. Natural processing takes more time and tending with drying spanning anywhere from 10 to 60 days in the case of 'slow dried' coffees.
Panama Esmeralda Private Collection Geisha represents a great bargain in one of the world's most expensive and sought after coffees -Esmeralda Special - which is sold only through a privately held international auction for professional roasters. Each year for the past several years, Hacienda Esmeralda has held a private auction of their prized Geisha varietal, each Esmeralda Special lot coming from a specific plot of land on their farm. Altogether there is not much coffee, only about 20,000 pounds, which must fill a big demand from all corners of the world (this may sound like a lot but is only half of one shipping container). Competition for the coffee is fierce and prices go very high. By the time the coffee reaches roasters around the world it is not uncommon for it to sell for more than $100 per pound or $7 to $10 when sold by the cup.
Fortunately, for the past few years Esmeralda has released their "second coffee", the 100% Panama Esmeralda Private Collection Geisha. As in the wine world where the second wine of the very top chateaux are fabulous wines in their own right, still costly but a relative bargain. Lafite-Rothschild has its Lafite Rothschild Carruades de Lafite; Chateau Latour its Les Forts de Latour. These wines would be great in anyone's book, but they are withheld, often for a tiny detail, from being in the rarified top lot. The same holds true for Esmeralda Private Reserve Geisha. This is a wonderful coffee, exhibiting much of the same lovely jasmine, floral and lemony tones witnessed in the auction lots but at less than the price.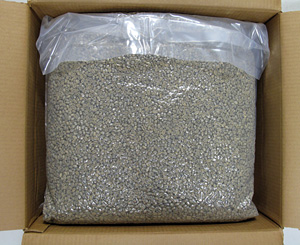 There is only a very limited supply of this coffee too. It comes from alll of the growing plots on the Hacienda Esmeralda farm which range in altitude from 1450 to 1800 meters (4750 to 5910 feet). At this price, Panama Esmeralda Private Collection Geisha may not casually seem a bargain, but it is considerably less than half the price of its sibling and almost the same taste experience. We really feel that the Geisha varietal is well represented in this coffee and that you will thoroughly enjoy it.
Naturally, every detail of growing and processing has been done at the farm to produce this fine, washed coffee. The finished green beans just arrived at our roasting plant in vacuum packaging ready for us to take it the rest of the way in roasting it for you.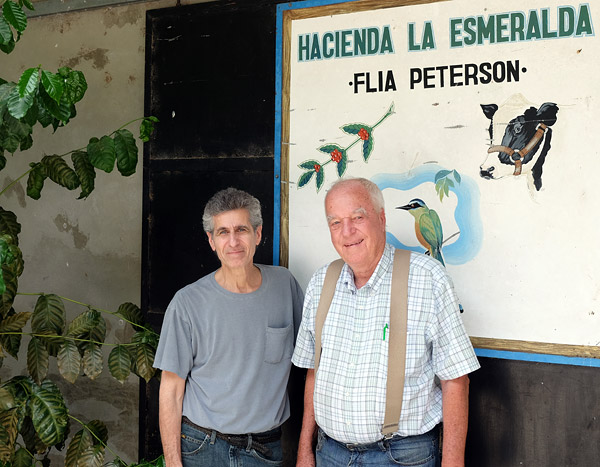 Barry (left) and Price Peterson, founder Hacienda Esmeralda
Please note: Sold in 12 ounce or 1 pound bags.