Guatemala El Injerto Legendary Gesha
Guatemala El Injerto Legendary Gesha
Cup Characteristics: Fragrance of guava, lavender and bergamot surprise your olfactory sense. Oak aged hints that some also describe as eucalyptus add to its complexity. Tangerine acidity is well combined with plums and peaches in the aftertaste.

---
This Willoughby's Serious Select coffee will be roasted and shipped on Tuesday 9/22 and Tuesday 9/29 subject to availability.
Just arrived by airfreight, new crop, directly from the producer. This is a very small lot from one of our favorite coffee growers, Finca El Injerto in the western Guatemala region of Huehuetenango. El Injerto's stature is such that they successfully have an annual auction of specific boutique lots of coffee they produce. We cupped all of the auction lots and favored the washed Legendary Geisha from the group of top lots. Several lots of the Legendary Geisha were sold for around $41 a pound green, unroasted and in FOB Guatemala, however, we were not successful in bidding for one of those lots. We were, however, within days able to purchase the same coffee directly from the producer with whom we have had a longstanding relationship. In the end, we are able to have this coffee for our customers at a reasonable price for
We've offered coffee from El Injerto for a number of years, many of which have been the Pacamara varietal, but we are really impressed with their Geisha and offered it once before in 2017 when Coffee Review gave us a 93 point rating for it. The Geisha seeds resulted when Arturo Aguirre, Sr from El Injerto visited Hacienda La Esmeralda. El Injerto considered it an honor to have been provided the seeds and treated them them like royalty, naming their newly grown coffee as 'Legendary Gesha'.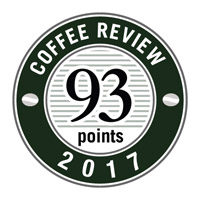 Legendary Geisha won 2nd place in the 2017 Guatemala Cup of Excellence. Processing of this coffee is unique, El Injerto calls their washed processing of this coffee "Peak Performance Process (P3)". To paraphrase: 'an exhaustive process of hand sorting, separation and selection of the coffee beans throughout wet and dry milling. This includes, full fermentation, soaking for 24hrs after washing and very slow drying. This enhances the flavors and increases the life time of the coffee'.
El Injerto is the pre-eminent farm in western Guatemala, in Huehuetenango; in fact, it is one of, if not "the" most famed coffee farm in the country. This is rough terrain and it takes about eight hours to travel here from Guatemala City, mostly because of difficult roads and steep, winding slopes. While the farm has a generous amount of land, two-thirds are a natural rain forest surrounding the coffee plantation. Elevations range from 4,800 to 6,500 feet. The Legendary Geisha plot is at a steep elevation of 5,940 feet!
The farm was first owned by Jesus Aguirre Panama in 1874 and it was he who named it after a native fruit. At present the farm is managed by the third and fourth generation of the Aguirre family who have worked it since 1956. Their mission is to produce specialty coffee, maintaining agricultural practices friendly to the environment and focusing on social responsibility and sustainability; to achieve a new paradigm of coffee farm management. Harvest takes place from January through April. The process is carried out by expert pickers who select only ripe fruit, modern technology and strict quality control both before and after the harvest. El Injerto is Rainforest Alliance certified.
Country: Guatemala
Region: Huehuetenango
Producer: Finca El Injerto, Arturo Aguirre
Harvest: March, 2020
Altitude: 1890 meters
Mill: El Injerto
Drying Method: African Beds - Under Shade - Inside Green House.
El Injerto is very forward thinking. As mentioned, they plant and grow a number of varietals toward developing the most flavorful for their soil and micro-climate. They are also Rainforest Alliance certified. The entire plantation is under shade of Gravillea and Macadamia trees as well as canopies. El Injerto goes to extreme measures to grow, harvest, process, dry, mill and ship their coffee.
In their September 2017 Coffee Review 93 point rating, they said "Blind Assessment: Subtle; balanced; classic. Roasted cashew, sweet apple, clover flowers, brown sugar, fresh-cut cedar in aroma and cup. Softly and sweetly tart in structure; plush and velvety in mouthfeel. Apple, brown sugar, cashew and clover all carry into a quietly complete finish.". The quality of this coffee has only improved over time as the plants have matured, surviving and strengthening after
PLEASE NOTE: This is being sold in 12 ounce bags.