Yemen Haraaz Special Red Grade A+
Yemen Haraaz Special Red Grade A+
Cup Characteristics: Bold, striking, clean, exotic cupping. Dark chocolate, tongue coating mouthfeel. Racy, distinctly Yemeni Mocha flavor notes. No other coffee tastes quite like this one nor has its lingering mouthfeel.

---
This Willoughby's Serious Select coffee will be roasted and shipped on Tuesdays 1/16 and 1/23.
This is a very special, limited edition Haraaz Red Grade A+ from our source in Yemen. Our roasting division had this particular coffee in past years and it really does stand head and shoulders above other coffee from Yemen albeit at a considerably higher price. We attended a group cupping of Yemeni coffee last season with coffee from a number of exporters and from different regions in Yemen. There were a lot of folks at the cupping and essentially this coffee walked away as the consensus first choice with the real question being which would be the distant second choice. Immediately thereafter we secured the small amount of this coffee that was available and have it again this year.
While many grades and sizes are produced, this particular one is the very highest. Haraaz Red is the result of painstaking care at every stage of the post harvesting process. This attention to detail produces a distinct difference in flavor and clarity. This begins by harvesting only fully ripe, mature coffee cherries, then separating the largest cherries and drying them in a specially designed pyramid to promote airflow while slowly drying. This is a very unique coffee.
We work directly with an exporter in Yemen who culls true specialty grade coffee and ships it to the US in Grainpro bags which isolate the coffee from any taste and odor and also controls moisture. Our direct relationship is important because often when one buys coffee from Yemen they may get a variety of growing years all mixed together, or, mixed screen sizes. This year we began to import a A+ grade of Haraaz coffee, a slightly larger bean size that is also more uniform. This allows more evenness and control during the roasting process, albeit more costly.
Our shipper works with growers and you can be assured of new crop, evenly graded specialty coffee, the real deal. It's expensive but farmers are assured of much higher remuneration than they would typically receive as well as investment in social programs. This is 100% authentic Yemen Mocha from a single, quality producing region.
Yemen Harazi coffee comes only from the Haraz Mountains, an ancient coffee growing region in the isolated northwest highlands. Coffee is grown at very high altitudes and beans have a particularly hard density. Altitude of the agricultural land in the region ranges from 4500 feet to an astounding 9000 feet. Flavor is intense and characteristic of the very best Mocha coffee Yemen has to offer. This Haraaz coffee is marked superior to other coffees from Yemen that we have recently cupped.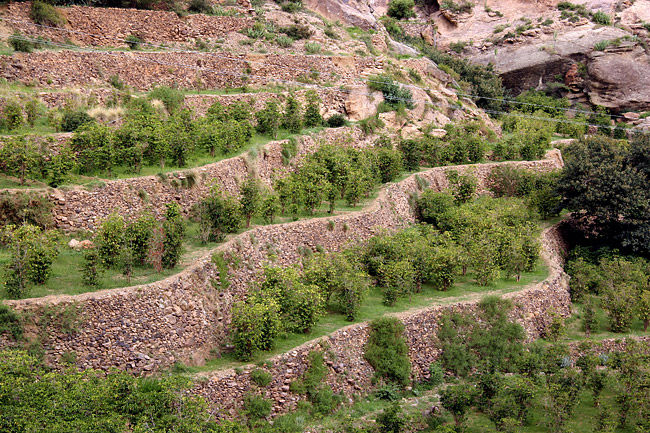 Coffee trees growing on steps carved into rock in Harazi
Coffee is produced in the Haraaz Mountains with ancient methods, resulting in natural, dry processed coffee. Steep, rocky terraces were carved in the rugged mountains centuries ago so it could be farmed. While not certified as such, Haraaz coffee uses no synthetic fertilizers nor pesticides, and all crops are rain fed. With almost no access to commercially available farming supplies, the coffee is grown in a natural environment, free of pollution. The growing methods have not changed for centuries.
Cherries, picked by hand are placed on straw mats and laid on village rooftops, to dry in the sun. The farmers take a lot of care to protect their coffee from contamination, mold and other negative conditions during the two week long drying period. Once dry, beans are collected by the exporter in all the villages throughout this mountainous region, and transported to a collection center in the village of Al-Hutaib. Finally, it is conveyed to processing facility in Sanani for milling, bagging and export to waiting international buyers.
Ancestral, heirloom varietals have been catalogued and include unfamiliar names such as Dawairi, Tufari and Udaini. Recently, two other varietals have been discovered, Shabriqi and Jadd'di. Some of these produce cherry year round while others produce on a yearly cycle. Still others yield cherry only every other year. Harvest is generally October and December, with other varietals harvesting in March and April.
In the last three decades of the twentieth century farmers turned away from traditional crops, including coffee, to grow Qat, a narcotic, and far more lucrative endeavor. Apart from the illegality and moral issues, Qat farming destroys the soil of its nutrients and area's scarce water supply. With the help and guidance of the 'Haraaz Project', as well as government incentives, many of the five hundred or so farmers in the Haraaz Mountains have turned their attention back to their traditional coffee roots.
Today, you will find Haraaz coffee to be one of the best. For Yemen Mocha fans, choose this coffee for a most pleasant surprise.




Haraaz Red drying pyramid construction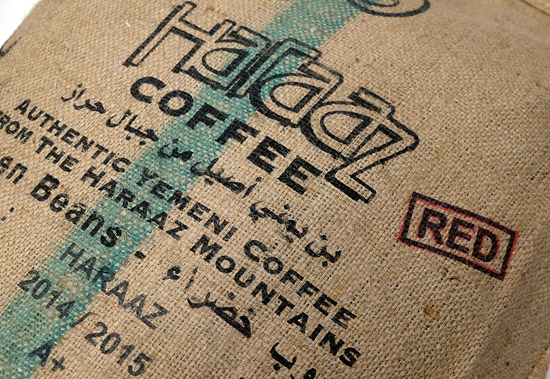 Detail of the bag from prior year