Vicosa, Brazil, Dec. 3.
We are here in Vicosa participating in the international judging of this year's Cup of Excellence competition. As you may know, COE seeks to find and reward the best coffee producers in a given region of the world. This is the 8th such COE competition in Brazil where it all began. While coffee is grown in many parts of Brazil, the town of Vicosa is located in the heart of the state of Minas Gerais, the region producing some of the best coffee. Judges have arrived from around the globe with some representation from the US in addition to from Japan, Norway, Finland, Holland, Australia.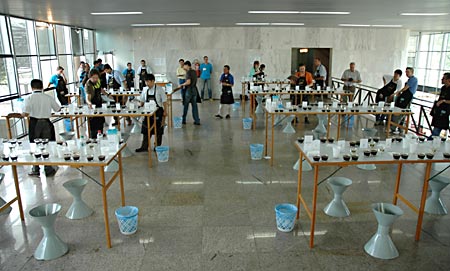 Growers who wish to participate in the competition submit their best lots of coffee and usually this represents only small quantities of beans that were given special care in growing, processing and varietal selection. Of nearly 350 coffees originally entered by growers, now only 54 remain at the start of the international and final round of judging, a process that lasts all week. Preceding us were Brazilian national judges who, after much tasting, organized the finals segment of the process.
Dec. 8, 2006
The competition concluded today and this evening was the well attended awards ceremony. Growers whose coffees made their way into the top 54 were invited to attend and an amazing 51 of them showed up, some traveling many hours to get there. This is a tribute to their emotional investment in the competition process. The top coffee this year is Fazenda Esperanca produced by Cicero Viegas Cavalcanti de Albuqueque from his farm in the Sul de Minas region. His coffee placed 6th overall last year and he is a multiple recipient of the President's Club award, testifying to the consistent excellence of his coffee.
All week long we, as cuppers and international judges, have known these coffees simply as numbers, everything being properly de-identified. Like everyone else, we found out the growers names during the awards ceremony. While farmers from all over Brazil are able to enter coffee in the competition, five of the top six coffees were from the state of Minas Gerais. I must say that the top half dozen coffees were exemplary and each had its fans. It is notable too that an abundance of the top coffees were grown from heirloom Bourbon varietal.
Congratulations to the winners of this year's COE competition. The top 29 coffees will be auctioned on Jan. 16th and no doubt there will be great interest for them. You may recall that last year's top coffee set a world record $49.50 per pound! Overall, the quality of Brazil's coffee is on the rise, and farmers are no longer content to have their effort simply be associated with canned coffee or espresso. These are some great coffees.

B & B