Serious Select coffees roast and ship on Tuesdays (except as noted) and are sold on a pre-ordered basis. They are packed in foil bags with one-way valves and ship within hours of roasting. Outside of neighboring states we recommend you choose shipping via USPS Priority Mail.
If you have other items ordered we will ship them along with your Serious Select coffee. If you want other items shipped separately please enter them as a separate order.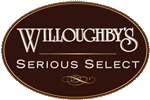 Introducing Serious Select - We are pleased to introduce a new line of coffees to Willoughby's we call Serious Select. In addition to all of the other great, freshly roasted coffee we offer, we have committed to some coffees of special distinction which are either very limited, exotic or both.
We are participants in a number of international competitions as jurors, such as the Cup of Excellence, now held in about eight countries a year. These competitions seek to rank the best coffee in a particular country in a given year. The coffees are later auctioned and the best fetch a considerable price due to their excellence and scarceness. Some Serious Select coffees derive from other single country competitions, some from private auctions - like the world renowned Hacienda Esmeralda from Panama - and still others are the product of experimentation by growers pushing the envelope.
These highly sought after and often more expensive coffees are what Serious Select is all about. We will roast and ship Serious Select coffees on Tuesdays, one or more coffees per week, so you may enjoy these coffees at their absolute peak of flavor.
---
*** Roasting schedule ***
The following coffees will be roasted and shipped on
Tuesday 12/10 and 12/17 subject to availability
Two unbelievable, delicious examples of the Geisha varietal.
Panama Don Pachi Washed Geisha
Don Pachi coffee, what little there is of it, is sought by luxury buyers the world over. The farm, a joint effort of father and son, produces Geisha varietal coffee that can be fruity and delicate when processed by traditional wash methods, and, intensely powerful when processed dry. We have here washed processed Don Pachi purchased directly from the farmer Francisco Serracin. Read more about Panama Don Pachi Washed Geisha...
Panama Hacienda Esmeralda 'Leon' Geisha
Some of the highest grown Geisha on the world renowned Esmeralda farm purchased at private auction. This delightful coffee is another fantastic take on the floral, citric coffee that has captured the coffee world's imagination. Read more about Panama Hacienda Esmeralda 'Leon' Geisha...
Check back for future selections.