Colombia Concordia Santa Monica
Colombia Concordia Santa Monica
Cup Characteristics: Concentrated, distinctly chocolate and citric character. Dark chocolate mouthfeel, really a bit unusual for Colombia. Clean and sweet with complex acidity. There is a piquant but soft background of succulent fruit. While flavor is substantial it's the mouthfeel that stands out. The coffee is clear and well balanced.
$13.49 per pound

---
Arrived September 2014, a direct import coffee and a favorite from prior years. Colombia Santa Monica is from the town of La Concordia in Southwestern section of Antioquia, 65 miles from Medellin City. The town is 94 square miles and 48 of those are dedicated to coffee growing. La Concordia is one of the most technology advanced towns in Colombia and is highly productive. It has more roads than any other town in Colombia`s coffee region based on the FNC´s statistics and has one of the highest levels of education in the region. The populace is oriented to preserve the environment and to living in harmony with nature.
Santa Monica is an estate coffee grown at an average elevation of 1924 meters or 6310 feet! In fact, some of the coffee on this farm grows as high as 2180 meters or 7150 feet, making it some of the highest elevation coffee we have seen. Coffee at this altitude is concentrated in flavor and because of the extreme elevation grow a bit smaller than what can be called Supremo, which are the largest bean size. Soil composition is volcanic.
The cup profile from this farm has a very distinctive chocolate, citric and floral flavor. Very well balanced and notable citric acidity add to distinctly sweet cup. This is a very complete coffee. Varietals are Caturra and Colombia, both of them common to the country. Processing is fully washed but mechanically dried in guardiolas rather than on patios. This beans are deep bluish green.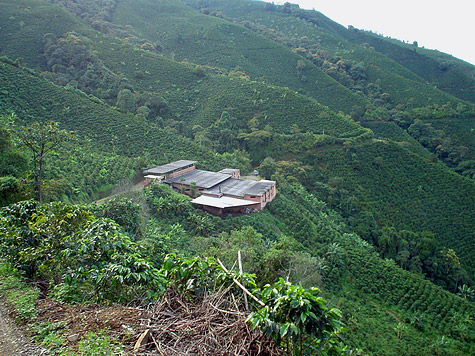 An overview of the landscape at Santa Monica.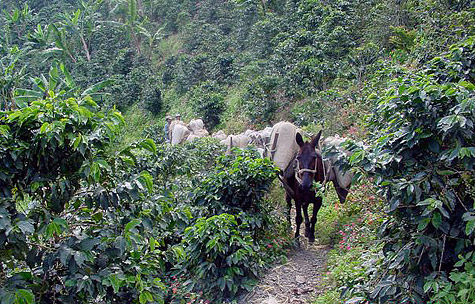 Burros bringing sacks of cherries from higher altitudes.