Panama 2019 Triple Geisha Deluxe Sampler
Panama 2019 Triple Geisha Deluxe Sampler
Free shipping item.
What a treat for the right person! All three coffees are direct trade and described below. An awesome gift for coffee aficionados, particularly lovers of the geisha varietal. This represents 3 interpretations of the venerable coffee seed.

---
FREE SHIPPING TO 48 CONTIGUOUS STATES
Eight ounces each of three joyous coffees. If you are a lover of wonderful, delicate geisha varietal florality your gift has arrived. We proudly present for your tasting and comparison, three geisha treasures all from Panama where this exotic varietal has found a home, nurturing micro climates and dedicated growers but growers in other countries are now looking to reproduce exciting results too. For those who may not know, the geisha seed is an heirloom varietal from Ethiopia that produces a blue-green elongated coffee bean that is especially aromatic and floral. The seed was originally brought to Costa Rica and some time later to Panama which lead to a rediscovery of this tasty cultivar. The best examples have extreme fruitiness, floral scents and flavors, but also great balance and finesse. Geisha coffees fetch the very highest prices in international auctions, often hundreds of dollars per pound.
The method of processing makes a big difference in the resulting flavors with washed examples showing their delicacy and florality, and natural processed ones having fruit intensity. This will make a fantastic gift to the right person.
These coffees are very scarce albeit expensive, with only small amounts produced. Each is freshly roasted to order, packaged in foil valve bags and presented in a thoughtfully prepared gift box. We have very long and strong relationships with Panama's top growers which has afforded the opportunity to purchase these coffees directly from producers.
Three Geisha coffees, two different processes. All three farms have won multiple awards in the Best of Panama competitions.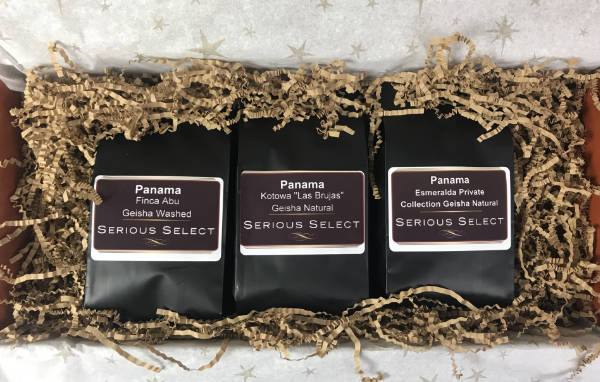 Panama Esmeralda Private Collection Geisha Natural
One of the most famous coffee producers in the world. Panama Esmeralda Private Reserve Geisha represents a great bargain in one of the world's most expensive and sought after coffees -Esmeralda Special - which is sold only through a privately held international auction for professional roasters. Each year for the past several years, Hacienda Esmeralda has held a private auction of their prized Geisha varietal, each Esmeralda Special lot coming from a specific plot of land on their farm. Altogether there is not much coffee, only about 20,000 pounds, which must fill a big demand from all corners of the world (this may sound like a lot but is only half of one shipping container). Competition for the coffee is fierce and prices go very high. By the time the coffee reaches roasters around the world it is not uncommon for it to sell for more than $100 per pound or $7 to $10 when sold by the cup. Esmeralda set previous auction records of $600+ per pound though that has recently been eclipsed.
Processing - Natural, the whole cherry is fully dried over a period of about 10 days. The flavor of the drying fruit penetrates to the bean within.
Cup Characteristics: Sweet and floral, with flavors of apricots and strawberries. Jasmine aroma. Coffee Review said "Crisp yet very sweet, delicately intricate. Lavender, lemon zest, apple, walnut, fresh pipe tobacco in aroma and cup. In structure massively sweet, gently tart; light, velvety, lively mouthfeel. Apple, lemon and fresh tobacco notes saturate a quiet, lightly drying finish."
Panama Finca Kotowa 'Las Brujas' Geisha Natural
The Kotowa farm, in its third generation, has several outstanding plots of land; this particular lot is from a portion of the farm called Las Brujas. We have had the pleasure of visiting Kotowa's farms, their old wetmill and their wonderful home, overlooking the beautiful Boquete mountainside and the Baru Volcano. Ricardo Koyner owns coffee shops too, located throughout Panama City and elsewhere in Panama, so much of Kotowa's production is used at home, reducing exportable quantities. In 2016 Cafe Kotowa was awarded the 3rd edition of the Best Producer Panama Cup which recognizes the producer whose coffees make it to the final round of each category in the Best of Panama competition.
Arrived packed in vacuum bags.
Farm Name: Cafe Kotowa
Coffee Name: Kotowa Las Brujas
Crop Year: 2017
Variety: Geisha
Process: Natural
Elevation: 1800 meters
Growing Region: Southwestern Boquete
Owner: Ricardo Koyner
Exporter: Specialty Coffee Association of Panama
Mill: Cafe Kotowa
Processing - Natural, the whole cherry is fully dried over a period of about 10 days. The flavor of the drying fruit penetrates to the bean within.
Cup Characteristics: The Geisha varietal gives way to a floral, jasmine aroma with flavors of tropical fruit and lime notes. Very elegant lime and mandarin acidity and sweetness with hints of melon and passion fruit and a ripe red fruit aftertaste.
Panama Finca Abu Geisha Washed
ABU Coffee grows Geisha varietal cultivated in the region of Canas Verdes, Boquete in a humid and rainy microclimate typical of the tropical forest. Coffee trees are grown on the slopes of the Baru Volcano National park in fertile, profound soils of volcanic origin rich with organic content and excellent drainage, minimizing erosion. Average altitude is 1550 meters above sea level. The shade protecting the plantation is given by native trees that grow in harmony with abundant local flora and fauna, respecting the environment and biodiversity. Given its strategic geographic location, sunlight is a key element throughout the whole process. The plantation receives powerful solar radiation, interrupted in the mornings and sunsets by a soft tropical mist known locally as Bajareque and caressed by thick fog.The farm is named in honor the memory of Jose's granfather and his dream of achieving what he considered the best in a cup of coffee, a geisha raised with the highest standards of quality. ABU is short for abuelo, grandfather in Spanish and the nickname his grandchildren used to call him.
Region: Boquete – Cañas VerdesFarm: ABU Coffee
Variety: Geisha
Elevation: 1,550 meters
Shade: 60% by native species of trees
Soil: Volcanic
Slope: South of Barú Volcan
Harvest year: January to March 2019
Harvest Method: 100% handpicking
Fermentation: 15 hours
Drying Method: African beds for 10 days when we use the wash process and 21 days when we use the natural process
Processing - Washed, traditional fermentation, sun dried over a 21 day period.
Cup characteristics: Aromas: Jasmine flower, floral blossom, bright herbal young, spicy, mellow, smooth, lemongrass. Mildly floral, notably jasmine with a soft, smooth finish. Classic geisha floral notes. Delicate, bright acidity like limes, juicy in structure; crisp, tangerine, caramelized almonds, black cherries. Creamy body and a well-balanced cup.
Note: Due to the nature of these coffees we offer them whole bean only.