Jamaica Blue Mountain Blue Baron Estate
Jamaica Blue Mountain Blue Baron Estate
Cup Characteristics: Sweet, classic Jamaica Blue cup. Notes of toasted almond, butterscotch, chocolate/mint and black pepper. Savory with a characteristic smoky background.

---
Just in time for the holidays! Jamaica Blue Mountain from the Blue Baron Estate.
Beautiful signature wooden barrels filled with unroasted coffee from a new Jamaica source arrived early December, new crop, and we set out to roast it right away. Just in time for your holiday gift giving and personal enjoyment. Note this is a 12 ounce package.
This farm is perched in Jamaica's famed Blue Mountain range, sitting at about 3,000 feet in elevation and is owned by the Minott family from Mandeville. The family has deep routes in Jamaica coffee growing and has been in business for 75 years. The history of coffee in Jamaica runs much longer, back to 1728 when coffee trees were brought from Ethiopia. We know today from its DNA that is a Typica mutation that developed while rooted in Jamaica and has become to known as a subset of Typica called Blue Mountain. It is the same varietal grown in the Kona area of Hawaii (where it is called Guatemala) as well as in Papua New Guinea. During the first half of the nineteenth century coffee growers possessing expertise, and escaping the ravages of revolution in Haiti, helped Jamaica achieve prominence on the world coffee stage.
For many years the vast majority of high quality Jamaica Blue Mountain went to Japan and as recently as 10 years ago Japan accounted for nearly eighty percent of coffee exported from there. Several hurricanes over the years, notably Ivan in 2004 created significant reduction in the size of JBM crops. Years before in September 1988 Hurricane Gilbert wreaked havoc on Jamaica, its people and its coffee industry, destroying 70 percent of the trees at that time. The hurricane, one of the most intense ever recorded, became a category 5 storm as it passed over the island. Winds were in excess of 155 mph and the mountains had 27 inches of rainfall. That singular weather event essentially ended quality coffee production which took nearly two decades to fully recover. Blue Mountain coffee growers enjoy intensely beautiful growing conditions but also are subject to violent storms that, with some frequency, can destroy their growing season and thus the scarcity of the coffee itself.
Today, Jamaica in its entirety, including lesser grades of coffee, account for about 100,000 bags or about 1/10 of one percent of world coffee production. Of that a much smaller amount is certified as Jamaica Blue Mountain. The government of Jamaica, to protect the expensive and noteworthy coffee appellation of Jamaica Blue Mountain requires the Jamaica Coffee Board to license, regulate and authorize each barrel of coffee. Jamaica is the only country we know that ships their coffee in oak barrels. We received all of our green coffee in 15kg barrels.
The Blue Baron property encompasses 138 acres of prime Jamaica Blue Mountain land. About 60 acres are planted with coffee and protected by shade trades as well as cloud cover. The clouds keep temperatures cool and account for slow maturation of coffee cherries which intensifies sweetness and flavor. All harvesting is by hand with only ripe fruit being picked. In order to achieve the harvesting of only ripe cherries it is necessary to revisit each tree up to 10 times. Coffee trees are unusual in that all of its fruit does not mature simultaneously and it is not uncommon to see completely ripe and fully unripe coffee present together, occasionally with new coffee flowerings as well.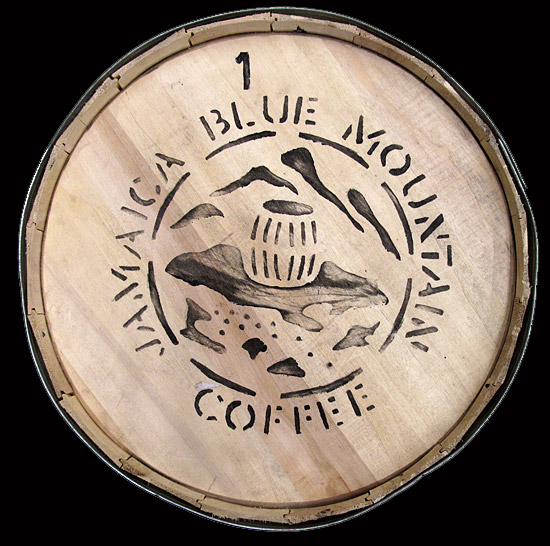 Jamaica's Blue Mountain coffee has long held a reputation as being one of the world's best coffees and certainly one of its most expensive; whether deserving or not is of much conjecture. Perhaps twenty five or more years ago this may have been true, but today, with artisanal crops being grown in several parts of the world, it is certainly not alone.

The coffee is cupping well this year.
Country: Jamaica

Farm: Blue Baron Estate

Region: Near Buff Bay

Varietal: Typica

Grade: 1

Processing: Fully washed, traditional fermentation

Drying: Patio, 100% sun dried on patios or in solar

Altitude: 3000 feet average
This is a 12 ounce package.