(China/Green) Pale gold/green in the cup. After many years we are now directly importing Jasmine Fancy Green tea from a great source in China. It is made by the "one bud and two leaves" hand plucking method using Chinese Mao Feng Green Tea which is then scented three times with fresh jasmine flowers. The Mao Feng Green Tea is from a high mountain tea garden located at 1100 meters (3600 feet) in the Guangxi growing region; this is a high elevation for tea. The tea has a bright green color and contains a lot of white tips, the sweetest part of the leaves. The tea is very fresh and offers a lasting and pleasant jasmine fragrance. The jasmine is clean and not artificial as you might experience with some others. The permeating floral notes play off of the fresh, sweet tea. This is good selection for tea after a meal.
To scent jasmine tea requires a huge amount of jasmine buds. The buds are plucked in the day time and are mixed with the tea because they only open and give off their fragrance during the night. Piles of Mao Feng Green Tea are covered with with jasmine buds as shown in the photo below. The following moring the used jasmine are screened out because the flower itself will affect the tea's flavor adversely. Occasionally you may see a few dried flowers added later to enhance the tea visually but the jasmine actually used for scenting has been removed. This process is conducted three times.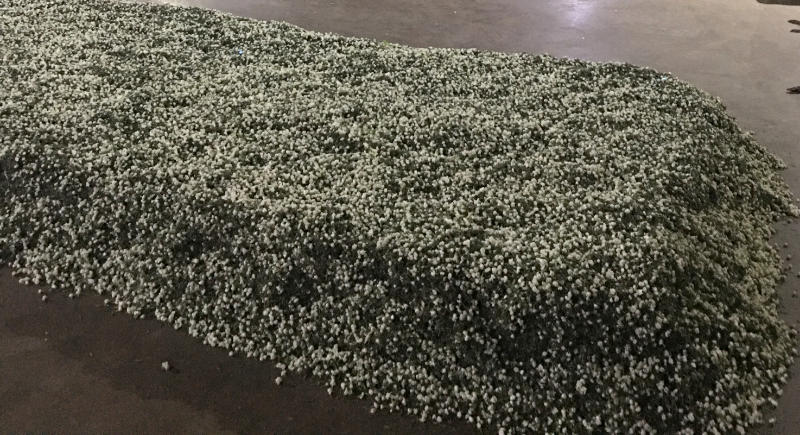 This tea was just harvested in mid April, then scented with jasmine flowers and flown directly to us!
Our China Jasmine Fancy Green Tea is the highest in quality and offers an excellent value.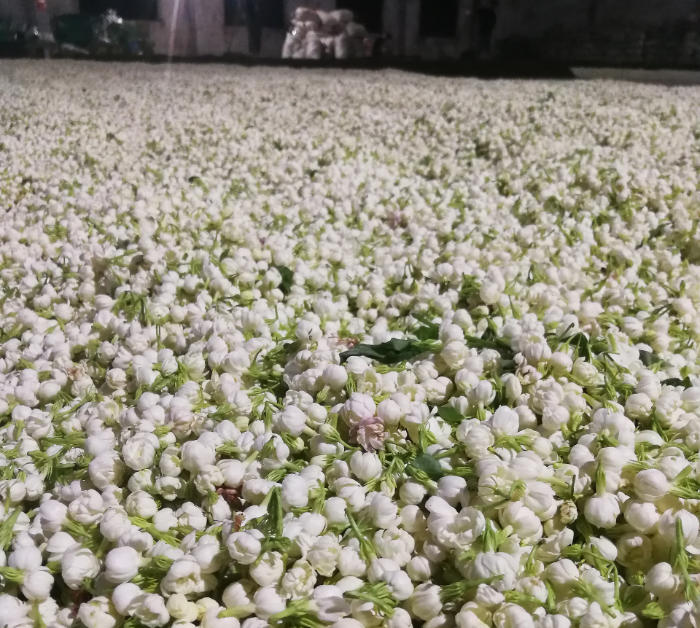 Water Temperature: 180° F
Leaf to Water Ratio: 1 tablespoon per 8 ounces
Steep Time: 3 minutes (1st infusion), 4 minutes (2nd infusion)

Mao Feng Green Tea scented with Jasmine flowers