Panama Elida Green Tip Geisha Loma ASD
Panama Elida Green Tip Geisha Loma ASD
Cup Characteristics: Floral, jasmine notes. Tropical fruit papaya, pineapple, guava. Intense fruit penetration. Layers of nuance fruit and flowers. One of the top coffees of the vintage from one of the top producers in the world.


---
This Willoughby's Serious Select coffee will be roasted and shipped on Tuesday, July 7 only. Available as a full pound or 12 ounces.
It's Geisha madness at Willoughby's - a different geisha varietal coffee each week for the next month or so. We are "breaking into the cellar" and clearing out our remaining 2019 coffee to make room for new crop coffee that is beginning to head this way, arriving later this summer.
Here is a rare treasure. We have an unopened, vacuum packed box of 2019 Panama Elida Estate Green Tip Geisha Natural Loma ASD. Not only is this a mouthful to say, it is a huge mouthfull of geisha natural flavors galore, a rare treat. And while this price may seem high, it is from the same crop, varietal and process as the #1 record setting coffee from last year's Best of Panama competition, where that particular champion coffee sold for $1029 a pound unroasted! This is a direct trade coffee from a producer with whom we have a longstanding relationship. While we have purchased traditional washed and natural coffees from Elida for many years, the first time we offered Elida's Geisha was in 2016. The Lamastus family are excellent coffee producers, smart, studious and meticulous. They own one of the most sought after properties in Boquete, Panama in a micro region called Alto Quiel. The Panama Highlands are made up of two regions, Boquete and Volcan, each surrounding the Baru Volcano. Great coffees can come from both areas.
Geisha varietal is a delicate floral and fruity coffee, originally of Ethiopia, that found a great home in Panama. Neighbors at Hacienda Esmeralda made the coffee famous, expensive and sought after by coffee aficianados the world over. Their innovation spread to other producers in the area, Elida among them. Elida took the work that Esmeralda began, and used it as a springboard for further development and nuance. In the meantime the competition heated up throughout the region as this part of Panama became known worldwide for its Geisha coffee. Elida won 1st prize in the 2016 Best of Panama Geisha washed category. In 2018 Elida won both washed and natural categories also breaking auction records at $809 a pound. In 2019 they did an astounding repeat victory in both categories and a new auction record of $1029 a pound. This is a great coffee producer and their repeated wins offer testimony.
So, now about this particular micro-lot, Green Tip Geisha Natural Loma ASD. Let's break it down:
Green Tip

- There are two known variations of the Geisha varietal, green tip and bronze tip based on the color of the plant's leaves. Green tip flavors accentuate floral notes and have brighter acidity. Bronze tip are smooth and creamy, showing less floral and a little more fruit. In competition the trend has been for the Green Tip to steal the show, time after time.

Natural

- Coffee cherries must be processed after harvesting. They can be washed where the coffee cherry's skin is removed, followed by fermentation and drying. Or, the entire coffee cherry can be dried out, in which case it is called Natural. As coffee beans are really its seeds that are found in the center of the cherry, the pulp drying on the beans imparts more, sometimes much more, of the coffee fruit flavor which penetrates to the seeds within.

Loma

- a plot of land on the Elida Estate located on the rise to the top above and behind their mill.

ASD

- abbreviation for Anaerobic Slow Dry. A relatively new technique where freshly picked coffee cherries are placed into airtight containers for a period of time. The cherries in essence stew in their own juices, intensifying. That is the "A" part. Then comes the Slow Dry part, where the drying time is extended from typically 10-15 days up to 40+ days. Again, another way to intensify and increase flavors.
The result of all of these special things - pedigree Geisha variety and Green Tip sub species; near perfect growing site; special ASD processing and unusual producer expertise and intelligence, all combine for a wonderful flavor experience.
Elida Estate is located in the Volcan Baru National Park near Boquete. The farm is about 65 hectares (160 acres), 30 of which are planted with coffee trees; it produces about 400 60 kg bags annually. Elida coffee is grown at an altitude of between 5500 and 6500 feet above sea level, the highest level at which coffee is grown in Panama. In fact, Elida is one of the two highest coffee farms in Panama. Varietals grown are Catuai, Bourbon, and Geisha. The farm has been owned by the Lamastus family since 1918.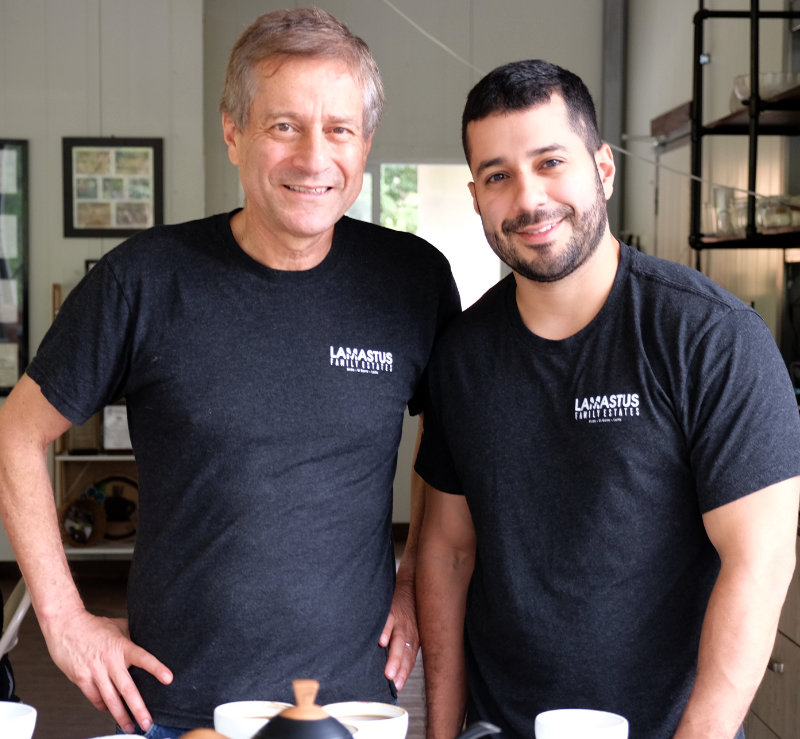 Wilford Lamastus Sr and Jr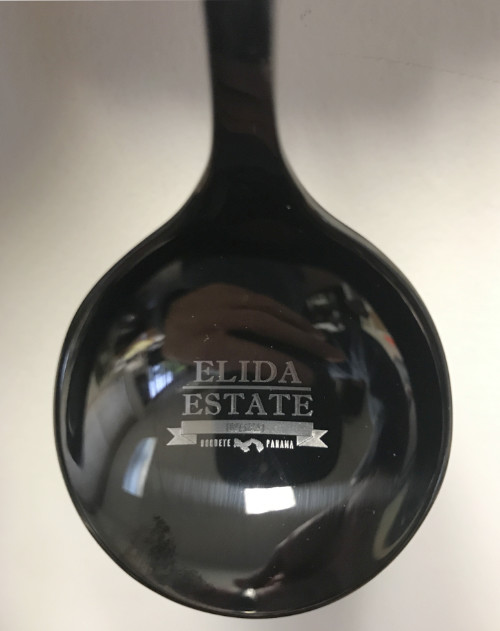 Wilford Lamastus owner of Elida 2015
Handmade wooden trays used for drying the natural and honey coffees.

Cup Characteristics: Abundantly floral, jasmine notes. Tropical fruit papaya, pineapple, guava. Intense fruit penetration. Layers of nuance fruit and flowers. One of the top coffees of the vintage from one of the top producers in the world.