Ethiopia Hambela recently arrived to the delight of waiting customers who seek this coffee from us each year we have offered it.

We are always on the lookout for a great Ethiopia natural processed coffee and thrilled to have another opportunity to roast this Hambela which was one of our most successful coffees of prior years. Two seasons ago one of the importers we work with directed us to their selection of Ethiopia Hambela lots. Out of the several of lots we cupped, this one stood head and shoulders above the rest. We contacted our supplier, who told us the lot we had chosen had also scored the highest in their blind taste test rankings as well. We were able to secure a number of bags, despite the demand, and know fans of natural processed Ethiopian coffees will enjoy this as much as we have. As new Natural processed coffees began to arrive again this season we cupped many and awaited for new Hambela, always a later arrival. It was as good as we remembered and this new crop coffee is now available, albeit for a limited time.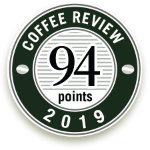 This coffee is unique in that it comes from a single estate in Ethiopia (Hambela) - the majority of coffees sourced from this country are from washing stations or cooperatives, where coffee from many smaller farms from around the region is processed and sold as a lot. Hambela is owned by the METAD Agricultural Development PLC, a family run business; the land on which it sits was awarded to Muluemebet Emiru, the first African female pilot, after World War II. Her descendents now run the estate and farm, with Aman Adinew at the helm of METAD. Adinew (Emiru's grandson) is one of the founding executives of the Ethiopian Commodity Exchange, the dominant organization in Ethiopia for commerce and trading. METAD plays an active roll in the local community: their workforce is over 70% women, and they provide healthcare for employees, award university scholarships and sponsor an elementary school with over 700 students. Quality and certification premiums have also helped METAD build roads and community centers, and they have expanded an "out-grower" program designed to provide technical assistance, farm equipment and certification programs for more than 5,000 local farmers.
The Hambela Estate has its own washing station, drymill and drying beds, so the processing of their coffee cherry can be done in-house. This coffee is a natural process, also known as dry processing, where the skin and pulp of the coffee cherry is not removed prior to drying. This process takes a much longer time than washed processing, and varies depending on humidity, temperature and amount of sunlight. Cherries are dried on African style raised beds for proper airflow all around and the coffee itself must be frequently turned. When the desired moisture content is achieved the dried cherries are milled down to the internal seed or bean. The sweet, fruity mucillage of the cherry penetrates the inner beans during this process, leaving a very noticeable fruitiness that can range from mild to extreme.
Zone: Guji
Region: Oromia
Altitude: 1900-2200 meters above sea level
Coffee variety: Indigenous heirloom cultivars
Coffee grade: Grade 1
Processing: Natural
Harvest: October-December