Panama Mama Cata Geisha Washed
Panama Mama Cata Geisha Washed
Cup Characteristics: Sweet and floral, with flavors of apricots and strawberries. Jasmine aroma. Coffee Review said "Crisp yet very sweet, delicately intricate. Lavender, lemon zest, apple, walnut, fresh pipe tobacco in aroma and cup. In structure massively sweet, gently tart; light, velvety, lively mouthfeel. Apple, lemon and fresh tobacco notes saturate a quiet, lightly drying finish."

---

This pure heirloom Geisha varietal is "old school" green and gold tip types mixed from older trees, very floral, very sweet and competely delicious. Only a tiny amount is up for grabs. We secured two small lots that were harvested two days apart from the same plot of land so they essentially have the same cup profile. Lot 55 was harvested on February 24th, the 55th day of the year and Lot 57 two days later on the 26th. We are not roasting nor selling the two lots separately but providing the information as background information and an indication of the fastidious processes and records kept by the farm.
The Mama Cata Estate was purchased in 1997 by Jose David Garrido Perez, who revamped the farm's existing technology in an effort to modernize the growing process. Coffee lots are identified by GPS coordinates, which allows the Garrido Perez family to study soil composition, varietal and individual tree output in a given lot. From this information they are able to tailor each harvest to produce the best quality and output of coffee cherry possible. There is also a major focus on harvesting only the ripest cherries, and pickers are educated on proper ripeness, rather than just picking all the cherry off a given tree. Patio drying of the coffee is done with attention to weather patterns, which are monitored by high-tech weather stations located at the wetmill.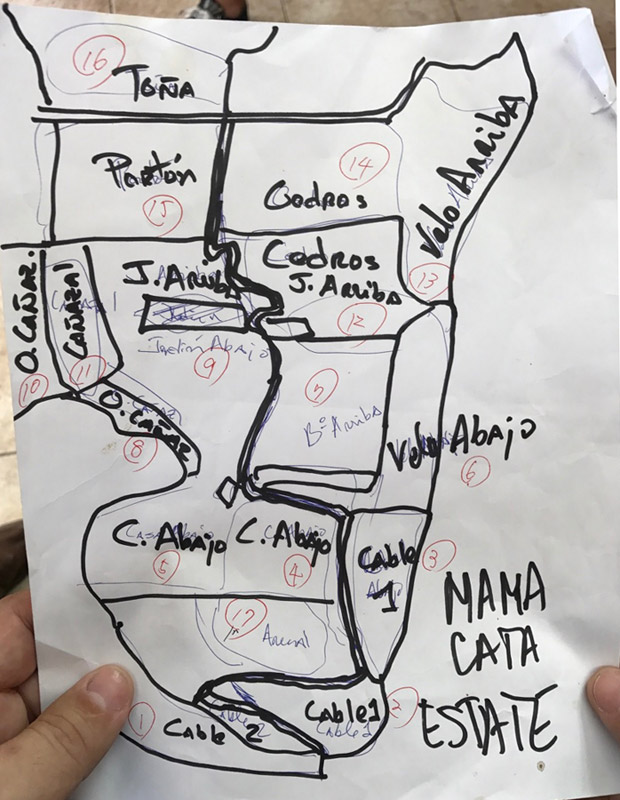 Hand drawn map of the Mama Cata Estate
Prior to the Garrido Perez family buying the land, the farm was owned by the Fisher family, where they focused on traditional coffee varietals, like Typica. It is from the matriarch of the family, Catalina Fisher, that the farm was given the name "Mama Cata".

Mama Cata Producer Jose David Garrido Perez with Barry Levine of Willoughby's
This lot is 100% geisha, an heirloom varietal from Ethiopia that produces a blue-green elongated coffee bean that is especially aromatic and floral. Price Peterson, who owns Hacienda Esmeralda in Panama, experimented by planting it some years ago along with a broader group of varietals. The result was the rediscovery of a great cultivar with extreme fruitiness and floral scents and flavors, but with balance and finesse not seen in other coffees. Coffee farmers in other countries soon followed suit, and the varietal regularly takes home awards in Cup of Excellence competitions held throughout the world. This Mama Cata coffee is fully washed, meaning the outer skin and pulp (fruit surrounding the coffee husk) are totally removed during milling before being sun dried on tables.
Coffee variety: Geisha

Farm: Mama Cata

Grower

: Jose David Garrido Perez
Province: Chiriqui
District: Boquete
Sector: Los Naranjos
Farm Plot: Velo
Altitude: 1750 meters / 5575 feet
Harvested: 2February 24th and 26th, 2018
Processing: Fully Washed, parchment dried on tables
PLEASE NOTE: Price is for 12 ounces.