Shipping Policies
Whenever possible we attempt to ship our fresh roasted coffee the same day it is ordered. We ship Monday through Friday and we ship via FedEx and US Postal Service(USPS) Priority Mail. FedEx charges a surcharge to residential locations. Unless you are logged in to your account and shipping to a bona fide commercial location, FedEx shipping rates defer to the residential rate which includes the surcharge. FedEx cannot accept orders shipped to post office boxes. USPS does not charge a residential surcharge, can deliver to a post office box and delivers on Saturday.
Shipping Methods
Shipping Advice - How to choose the best shipper for your location
We are now using both USPS Priority Mail and FedEx. Our coffee is roasted and shipped from Branford, CT. and we are interested in having your packages arrive as fresh as possible. If special shipping arrangements are required please contact us.
Choose the one best for you based on the following criteria:
U.S. Postal Service (USPS) Priority Mail:
Offers excellent rates if you are in the western US or live in an area that FedEx considers rural zip code.
Delivery is usually 2 or 3 days no matter where you are located in the US.
Deliveries 6 days a week: Monday through Saturday. Yes, Saturday deliveries.
Important Note: USPS has a special Priority Mail Flat Rate. The Medium Flat Rate boxholds up to 5 pounds of coffee and the shipping rate is $12.40 to anywhere in the country. A Large Flat Rate Box holds 6 or 7 pounds and costs $17.05. When you buy 3 to 7 pounds of coffee and you reside in a state where either rate will be beneficial, you will see the most effective flat rate option, in addition to regular Priority Mail. Choose the priority mail option that costs least as the service and delivery times are the same. Priority Mail is a quick, cost effective option if you are outside of our area. Step by step tracking is not available but USPS tracking does confirm when packages have been picked up and delivered.
USPS Regional Priority Mail - This is the same service as Priority Mail but sometimes, mainly in our region, it is more cost effective. If it is offered and priced more favorably for you then select it.
Federal Express (FedEx):
We offer four levels of FedEx service. FedEx delivers Monday through Friday.
Ground Service - Next day delivery guaranteed within our surrounding states (see FedEx delivery map below). Since the packages are transported via trucks the further the distance you are from us the longer it will take to arrive. USPS Priority Mail is a good alternate if your destination is beyond 2 or 3 days. Often, FedEx ground is the best choice if you live in a nearby state.
FedEx Business days in transit from: BRANFORD, CT. 06405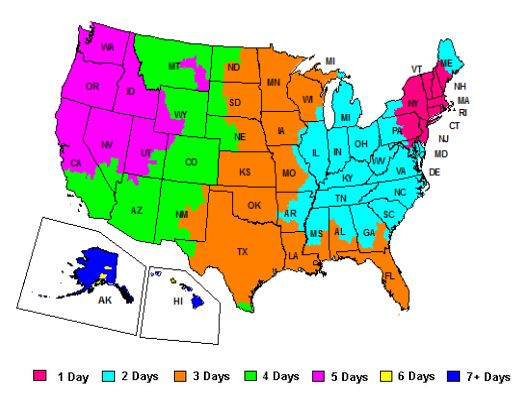 FedEx 3 Day Select - Guaranteed delivery within three business days to and from every U.S. address in the 48 contiguous states. Not offered in our surrounding states where FedEx ground guarantees next day delivery.

FedEx 2nd Day Air - Guaranteed delivery to all 50 states and Puerto Rico by the end of the second business day. Not offered in our surrounding states where FedEx ground guarantees next day delivery.

FedEx Next Day Air Saver - 1) Guaranteed on-time delivery by 3:00 p.m. to commercial destinations where FedEx Next Day Air® delivery is committed by 10:30 a.m.; 2) Guaranteed on-time delivery by 4:30 p.m. to commercial destinations where FedEx Next Day Air delivery is committed by 12:00 noon; 3) Shipments to residential locations within the Next Day Air Saver area are delivered by end of day.