Over the years quite a few customers told us about their Willoughby's experiences - where they have taken and enjoyed their coffee, and the great lengths they go to in order to not settle for anything less. Here are just a couple of photos.
---
Willoughby's Serious Coffee. in the Sahara
Photo by Charlie Kellett on location in the Sahara Desert, Morocco.
Patti wrote:
I cannot tell you enough how much my Willoughby's coffee means to me. I have been a customer since the store first opened ... Since then, I have had no other coffee if I possibly had a choice! I met my husband about 15 years ago and gave him Willoughby's whenever he was over. At first he pooh-poohed my enthusiasm about a particular brand of coffee, but soon he started asking me to pick up a pound for him when I got mine! Now we laugh at ourselves for being "coffee snobs" when we go somewhere that does not serve Willoughby's.
The employees at your stores are super friendly, helpful, and knowledgeable. The stores/cafes are always clean and inviting. The beverages made in the cafe are fabulous and very reasonably priced.I just want you to know that I am generally not an effusive person, but I am fiercely loyal and very effusive about Willoughby's.
---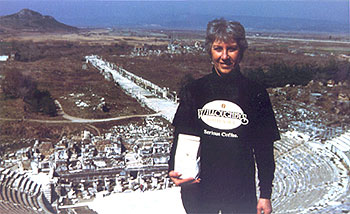 Willoughby's at the Acropolis.
Photo by R. McDaniel.
Carter wrote:
"Thank you for your wonderful coffees and teas, and for your excellent service.."
Brad wrote:
A note of praise. I've been getting beans from Willoughby's for a few years now, and you've NEVER disappointed me. I just got the last shipment and can't believe the freshness of the beans ... - ahhhhhh! Heavenly! You put that national chain to shame- way to go! ;-)
Great job to all involved in the process! Keep up the good work!
Enjoying every cup."