Baratza's dedication to excellence includes the occasional update of its products, as is seen in the newly redesigned Virtuoso Plus introduced in May 2019. While the insides still have the same high-quality components, the outside timer switch has been replaced by a digital display on the front. The 40 second digital timer allows you to easily set a repeatable dose, with intuitive adjustments to the tenth of a second. A fantastic value for $249, and a solid, reliable choice overall; the Baratza Virtuoso Plus makes it easier than ever to grind professional quality coffee.
This item includes free FedEx ground shipping in the 48 contiguous states.
** $15.00 shipping discount to Hawaii and Alaska code SHIPDISC during checkout. Canada code SHIPDISCC.

New features in the Virtuoso+:
Digital display
40 second digital timer, adjustable to the tenth of a second for repeatable grinding time
Front-mounted pulse button makes it easy to grind directly into an espresso brew basket
Grounds bin is now clearer
Grounds bin has an LED light for improved visibility
Some of the Virtuoso+'s incredible features:
40mm commercial-grade conical burrs, manufactured in Italy, yield the consistent grind that is critical for a perfect espresso or brewed coffee extraction
Easily adjustable burrs can be calibrated to ensure accurate grind range from espresso to coarse in 40 separate settings
Cast metal upper housing and base for beauty and stability
High efficiency motor is powerful and spins slowly resulting in cool, quiet operation
Special gear reduction to 600 RPM, along with new anti-static technology insures extremely low static
New concise design of grinding chamber reduces coffee dust, making the removable burrs easy to clean
Powerful 6.0 amp motor
8 oz. bean hopper
Large 5 oz. grounds bin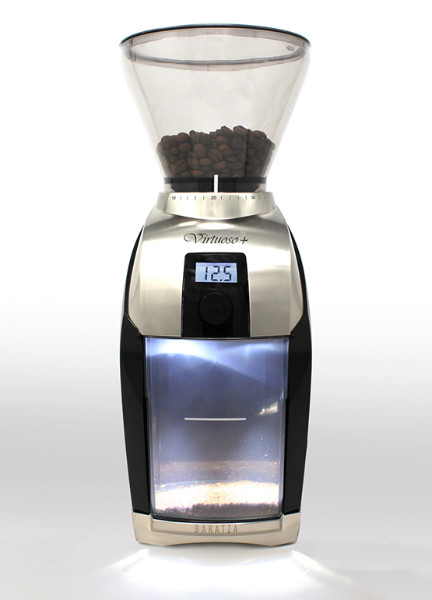 Grind calibration provides 40 settings from espresso to coarse. The adjustment range is calibrated for precise, accurate performance. An innovative calibration system virtually eliminates grind variation and ensures identical performance from each grinder.
Detail of grind settings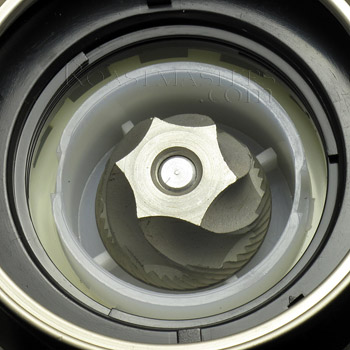 Looking down into burr housing.
Burrs are 40 mm commercial grade conical burrs.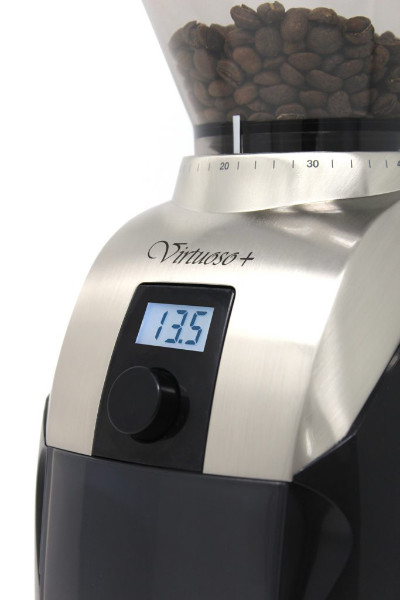 The Virtuoso+ timer and activation button
Baratza Virtuoso Specifications:
Color: Black with a polished metal base
Weight: 7.5 pounds
Size: 14"H x 5"W x 6"D
Power: 160 watts - 120 volts
Warranty: One-year parts and labor
Support: Unlimited toll free technical support
Packed with cleaning brush.
Packaged using 100% recyclable materials.
Speed To Grind 1.5g/sec. - 2.4g/sec. / 500 RPM
Burrs 40mm conical burrs
Bean Hopper Capacity 8oz (230g)
Grounds Bin Capacity 5oz (142g)
Weight 8lbs (3.6kg)
Dimensions WxHxD (cm) 12 x 35 x 16
Power Rating 220-240VAC 50/60 Hz, 80W, 0.5A class II 100-120VAC 50/60 Hz, 70W 0.8A No Load
Burr Speed 550 RPM
Safety Listing UL/CSA/CE
Designed & Engineered Seattle, WA
Manufactured & Assembled Taiwan

User manual can be downloaded here in Adobe Acrobat (pdf) format.