Baratza Virtuoso Coffee Mill
Baratza Virtuoso Coffee Mill
Includes Free Ground Shipping
---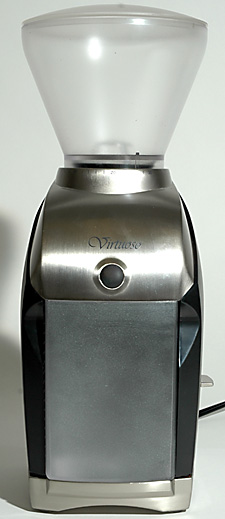 About a year ago Baratza upgraded the burrs to those used in their more expensive Preciso model. The Baratza Virtuoso makes it easier than ever to grind professional quality coffee. This is a really substantial grinder, solid in every respect. Below are some of the Virtuoso's incredible features:
40mm commercial-grade conical burrs yield the consistent grind that is critical for a perfect espresso or brewed coffee extraction.
Easily adjustable burrs can be calibrated to ensure accurate grind range from espresso to coarse in 40 separate settings.
Cast metal upper housing and base for beauty and stability.
High efficiency motor is powerful and spins slowly resulting in cool, quiet operation.
Special gear reduction to 600 RPM, along with new anti--static technology insures extremely low static.
Timer switch for repeatable grinding time.
Front-mounted pulse button makes it easy to grind directly into an espresso brew basket.
New concise design of grinding chamber reduces coffee dust, making the removable burrs easy to clean.
Powerful 6.0 amp motor.
8 oz. bean hopper
Large 5 oz. grounds bin.

This item includes free shipping via UPS ground in the Continental US.
Grind calibration provides 40 settings from espresso to coarse. The adjustment range is calibrated for precise, accurate performance. An innovative calibration system virtually eliminates grind variation and ensures identical performance from each grinder.
Detail of grind settings
Looking down into burr housing.
Burrs are 40 mm commercial grade conical burrs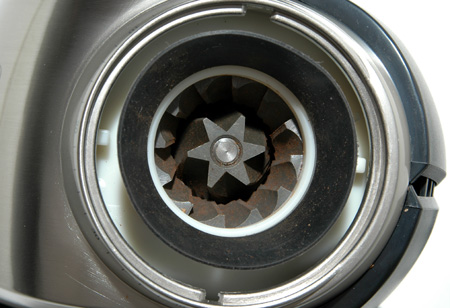 Side view showing timer for measurment.
Front-mounted pulse button makes it easy to grind directly into an espresso brew basket.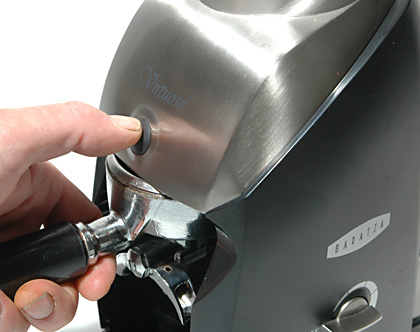 Dimension: W x H x D 5" x 14" x 6"
Weight: 8.5 pounds
Packed with cleaning brush.
Packaged using 100% recyclable materials.
Download instruction manual
Manufacturer's warranty is one year from date of purchase.