This prosumer home espresso machine from Breville is extremely capable, versatile and good looking in a Brushed Stainless Steel finish. Besides its built in conical burr grinder the machine has a terrific, intuitive color touch screen that enables the user to select and tweak from numerous pre-programmed drinks and also let's you save newly created drinks of your own invention or modify existing ones. To say that the Barista Touch is feature rich is a big understatement as it comes with just about every feature one could want in a home espresso machine. And, despite its enormous number of features it is a very simple machine to use.
FREE SHIPPING IN THE LOWER 48 STATES
Check out these features:
COLOR TOUCH SCREEN CONTROL PANEL. Swipe & Select from the drinks menu. Adjust your shot volume, milk texture or milk temperature, then save it as your personal favorite.


AUTOMATIC HANDS FREE MILK TEXTURING. Automatically textures milk to the selected temperature and style from silky smooth latté to creamy cappuccino. Automatic purge removes residual milk from the steam wand when returned to the downward position.


RAPID HEAT UP. Innovative heating system achieves ideal extraction temperature in 3 seconds.


INTEGRATED CONICAL BURR GRINDER. Stainless steel conical burrs maximize ground coffee surface area for a full espresso flavor. Upper and lower burrs are removable for cleaning.


ADJUSTABLE GRIND SIZE. Espresso grind settings from fine to coarse for optimal extraction.


ADJUSTABLE GRIND AMOUNT. Adjust the amount of fresh ground coffee dosed into the filter basket to suit the fineness or coarseness of the grind.


AUTOMATIC DOSING. Use the FILTER SIZE button to tell the machine if you are using a 1 CUP or 2 CUP filter basket. The grinder will dispense the required amount of ground coffee for a single or double cup dose.


HANDS FREE GRINDING. Auto stop for hands free grinding directly into the portafilter.


THE RAZOR™ DOSE TRIMMING TOOL. Patented twist blade trims down the puck to the right level for precision dosing and a consistent extraction.


ADJUSTABLE TEMPERATURE CONTROL. For optimum coffee flavor. PID TEMPERATURE CONTROL Electronic PID temperature control for increased temperature stability.


INSTANT HOT WATER. Dedicated hot water outlet for making Americanos and pre-heating cups.


LOW PRESSURE PRE-INFUSION. Applies low water pressure at the start of the extraction to gently expand grinds for an even extraction.


VOLUMETRIC CONTROL. Preset 1 & 2 cup volumes, manual over-ride or programmable shot volumes.


DRY PUCK FEATURE. Removes excess water from the ground coffee in the filter basket after extraction for easy disposal of the coffee puck.
DIFFERENCES BARISTA TOUCH VS BARISTA EXPRESS
BARISTA TOUCH adds:
Color Touch Screen controls
Select from a list of pre-programmed espresso beverages
Customize, personalize and save your own beverages
2 year warranty (vs 1 year for Express)
80 additional watts power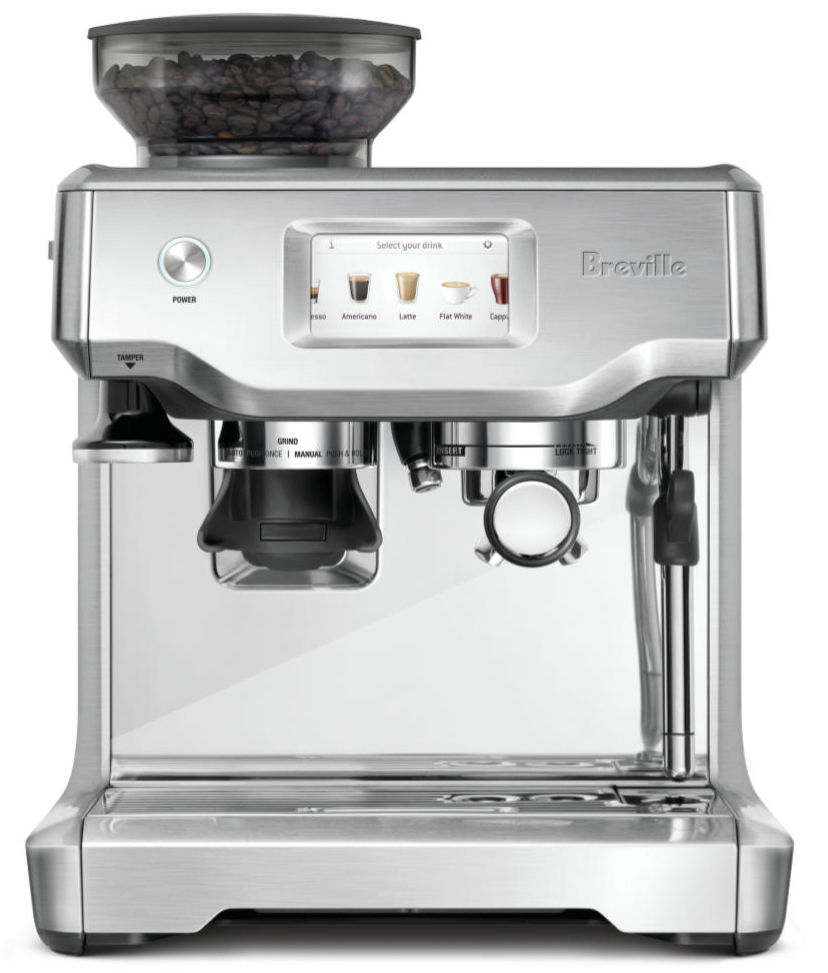 Specifications
Accessories included

54mm Full Stainless Steel Portafilter.
Single and Double Wall Filter Baskets.
480ml Stainless Steel Jug.
ClaroSwiss Water Filter.
Razor™ Precision Dose Trimming Tool.
Cleaning Kit.
Water Hardness Test Strip.

Capacity

Bean Hopper: 1/2 lb.
Water Tank: 67 oz.
Settings
Touch screen operation.
5 pre-programmed Café favorites.
Create, save and name 8 customizable coffee settings.
Adjustable Grind Control.
Programmable Milk Temperature and Texture.
One/Two Shots.
Hot Water.

Construction Materials

Brushed Stainless Steel.
BPA Free Water Tank.
Automatic Purge
Automatic cleaning function for steam wand.
Pre-infusion Function
Gradually increases water pressure to gently expand grinds for an even extraction.

Dimensions

14.5" x 16.7" x 17.6"

Power

1680 Watts

Voltage

110/120 Volts

Warranty

2 Year Repair Guarantee

Breville Barista Touch Introduction Video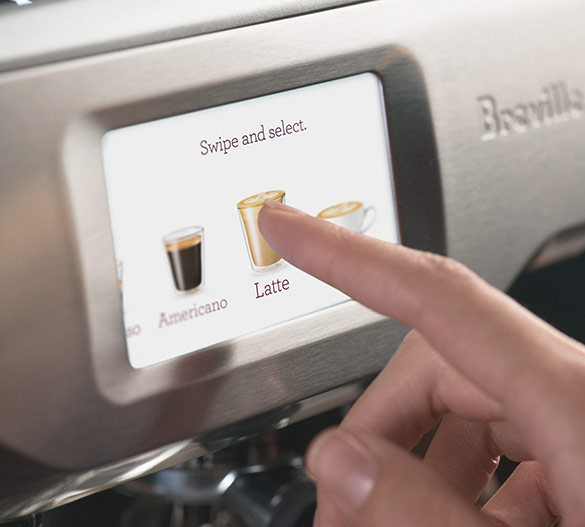 Intuitive and versatile touch pad lets you adjust and save personalized drinks.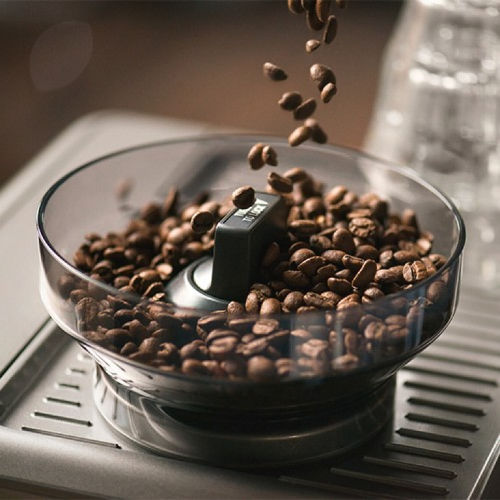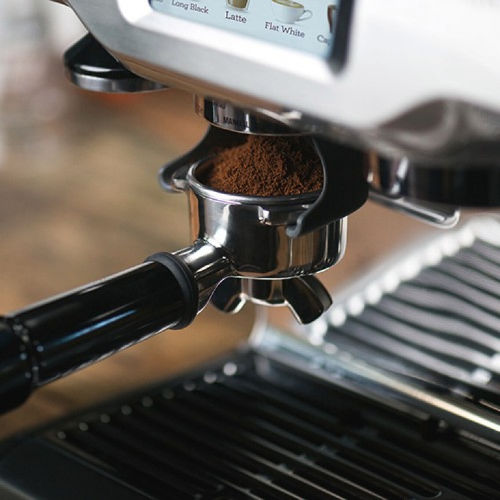 Integrated conical burr grinder (top) Hands free coffee dispensing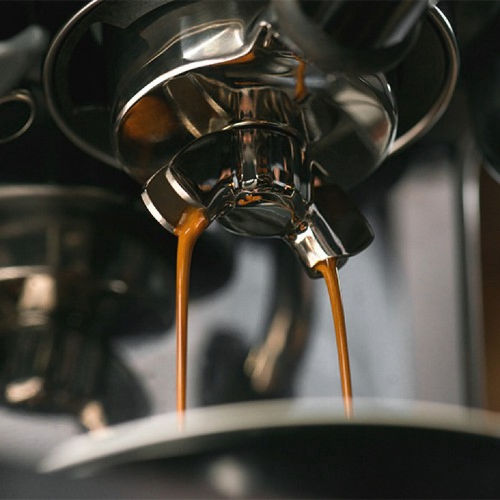 Milk micro frother (top) Professional style portafilter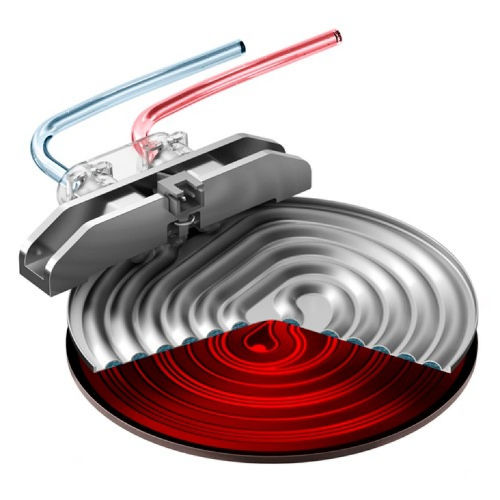 Breville's innovative heating system reaches optimum extraction temperature in 3 seconds.
Model: BES880BSS1BUS1
Manufactured in China