The alternately styled model Technivorm Thermo Moccamaster CDGT Clubline brewer is, like the Technivorm KBT-741, a simple, precise and elegant electric drip brewer. No gadgets here. This is a handmade coffeemaker built in Holland. The main asset of the Moccamaster products are their ability to maintain perfect brewing temperature throughout the entire brewing cycle, an attribute that has earned it certification from at least two coffee trade associations. This is a quality product, done simply. Specifications are the same the as the KBT-741 model - the main differences are in styling. The Thermo Moccamaster CDGT brewer has a tall, cylindrical water tank section, crafted by Gerard-Clement Smit of Technivorm. Smit received the Coffee Technician of the Year Award from the Specialty Coffee Association of Europe. Smit and Technivorm marry clean, interesting design with brewing excellence. Recommended in articles by Wine Spectator and Barron's. Both models we offer have stainless thermal carafes.
Certified by the Specialty Coffee Association of America.
Approved by the European Coffee Brewing Centre (Oslo). Only a handful of brewers earn this approval which "ensures that the water extracts the coffee optimally".
Features:
Brews at a consistent 200 degrees batch after batch.
Brews up to 10 cups. Capacity is 1.25 liters (about 43 ounces). Brew time for a full pot is about 4.75 minutes at drip grind.
Includes all stainless thermal carafe with 2 lids, a brew-thru and a travel lid. There is no heating element in brewer.
Filter basket has automatic drip stop.
Uses paper cone filters (supplied with our offer) or goldfilter .
Polished aluminum, scratch resistant finish.
Original Clement Design (aka Smitdesign) hand-built by Technivorm of Amerongen, the Netherlands
Dimensions:

Height 15.5", Width 11.5", Depth 7"
Weight: 10 pounds
1400 watts. 13 amps
Detail of water chamber and cylindrical design.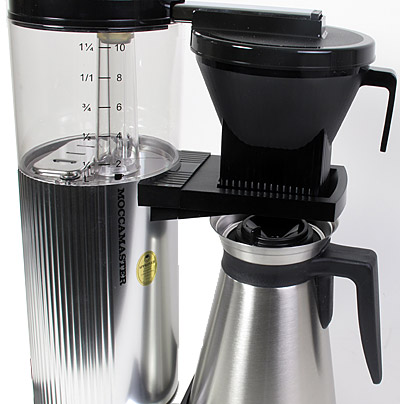 The European Coffee Brewing Centre
Seal of Approval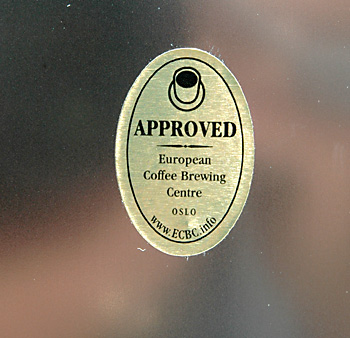 | | |
| --- | --- |
| | |
| Comes with newest style 1.25 liter thermal carafe | Certificate of handmade quality workmanship |
| | |
| | |
| Detail of spray head looking up | Cone showing automatic drip stop |
This item carries a 30 day satisfaction guarantee from date of purchase.

Manufacturer's warranty is 5 years from date of purchase.